Influencer Marketing Malaysia: The Trusted & Preferred Marketing Tool
The growth of online businesses has grown significantly over the past few years. I must admit that I am one of those moms who is guilty of getting hooked on online shopping, especially during the MCO. To-date, as I tried googling the tag 'online businesses', Google recommended about 11,570,000,000 results. Oh my!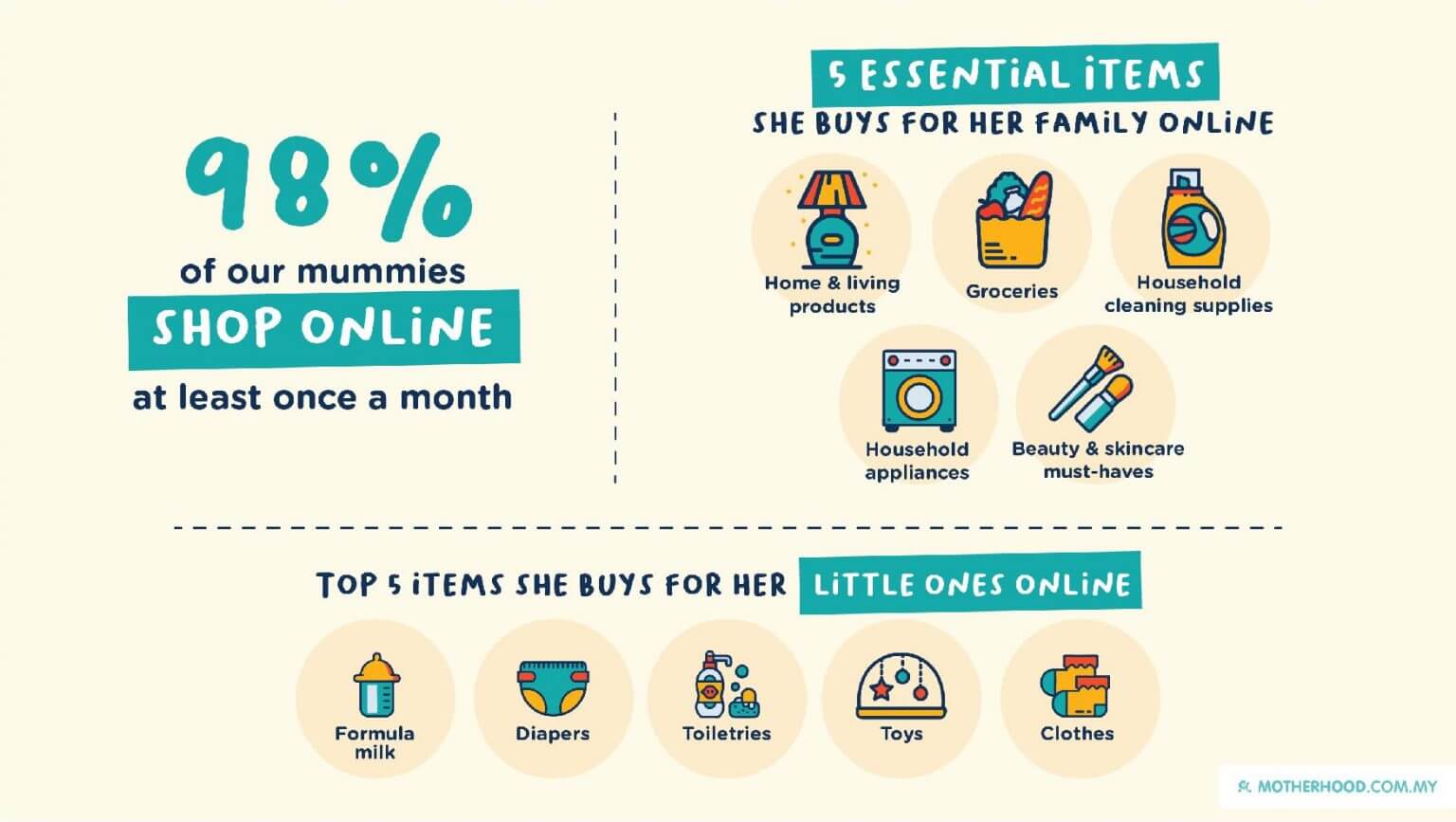 Either its online or physical business, marketing is one of the tools that is a MUST in order to meet the business objectives i.e. to make a profit. There are many creative ways that business owners and brands can opt for as marketing tools. One of the ways is to hire an influencer. 
What is Influencer Marketing?
Just like other marketing strategies, influencer marketing is a tool to promote products and services online in order to drives sales. This is achievable by partnering with influencers to reach more potential clients. 
Influencer marketing is increasingly popular and more effective in comparison with traditional advertising. In Malaysia itself, social media, blogs, emails, and digital ads are playing their major roles in everyday life. 
Almost everybody has their own accounts or email address that connect them online. People get connected via the internet and social media platforms such as Youtube, Facebook, WhatsApp, and Instagram to get information, latest news, and trends, sharing updates, and many more. 
By collaborating with influencers, influencer marketing would be able to tap bigger audiences from their followers and fans. 
In Malaysia
alone, there are 26.9 million internet user out of 32 million population. Where 91%  searched products and services online while 82% made purchases online.  
Influencer marketing is a type of social media marketing that uses endorsements and product mentions from individuals who have a dedicated social following. They are viewed as experts within their niche and their recommendations on certain products do play a major role in specific brand marketing. 
What is Influencer? 
As most of us are familiar with the word 'influencer', some might still be confused about what and who are they? Everyone can claim to be an influencer, but how do we know their claim is genuine?
Linguistically, an influencer is someone who affects or changes the way that other people behave. In marketing terms, an influencer is a person who is paid by a company to show and describe its products and services on social media, encouraging other people to buy them.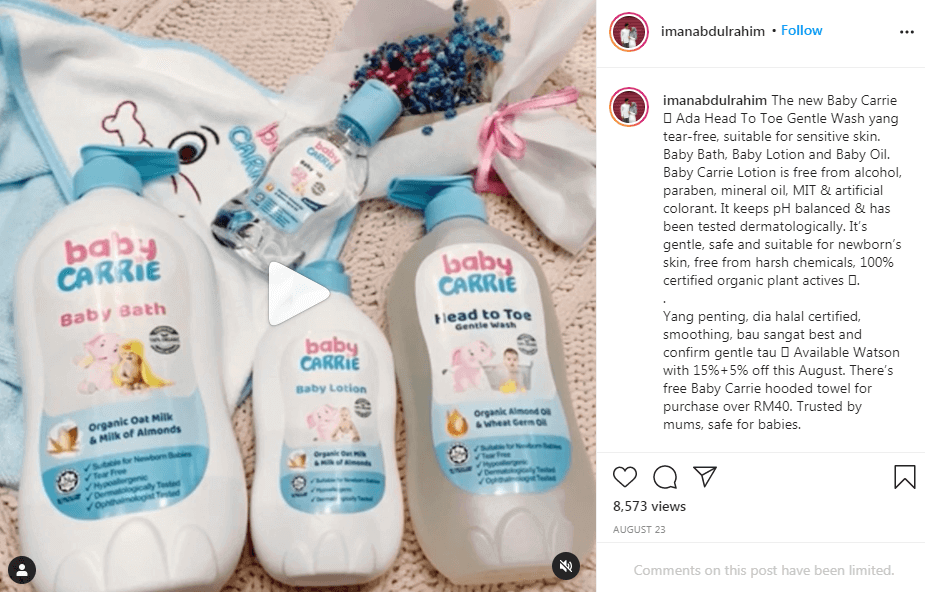 Iman Abdul Rahim, a mother to two daughters is one of the top ibuencer among Malaysian mothers.
An influencer can be anyone, and not specifically be a celebrity, as long as he or she has the ability to influence the behaviour or opinions of others. In return, through their knowledge, authorities, and positions, influences shall have an effect on their audience to turn what they 'preach' into sales. 
An influencer is not necessarily a brand ambassador. It could be someone who has a specific niche that they engage with regularly. Influencers are more attached to their product's niche community. This allows them to have the power to impact their audiences' purchase decisions.  
How Influencers Marketing Change Online Marketing? 
Online marketing does not only include influencers marketing alone. It also social adv, SEO, and email marketing. 
However, to-date, influencer marketing is more favourable. The
statistic reported
reflected that 35.3% of brand owners agree that influencer marketing gives the best Return On Investments and followed by 29% of the social ads and 21% from SEO. 
How is this possible? By collaborating with influencers to promote certain products or services gives the opportunity for brand owners to reach a bigger audience by tapping into the influencers' followers. It helps to increase the brand traffic and grows the social following. Trust me, building up followers are not as easy as it seems. It might take years to have these huge organic audiences. 
It is said that 70% of YouTube subscribers trust influencer opinions as compared to conventional celebrities. Therefore, hiring an influencer would positively help to build product trust in the public. In return,  this could drive more sales leads and secure purchases.    
Why Influencer Marketing? 
Selecting Influencer Marketing as one of the brand marketing tools seems to be an efficient way in today's' marketing strategy. Among the reasons are:
#1 Build brand credibility
As consumers are becoming increasingly sceptical of product commercials, building trust is crucial. Influencers possess knowledge and experience about what they are advertising. Recommendations from them serve as a form of social proof to your brand's potential customers. Therefore, their word-of-mouth allows brands to build their credibility.  
#2 Reach out target audiences
Unlike conventional advertising, the internet and social media have unlimited freedom and choices. The target audiences are more spread out through various forms of platforms. Brand owners would find it more difficult to reach potential audiences. This is how influencer marketing could be a great advantage. It allows brands to locate and advertise directly to the influencer's niche communities. 
#3 The growth of social media platform
Like it or not, the social media community is growing rapidly. The most popular social media platforms among users in Malaysia in 2020 were Facebook, Instagram, Facebook Messenger, and LinkedIn. People resort to social media for a quick grab of updates, engagements, sharings on lifestyles, trendings, and popular routines. Having said, influencer marketing is responsible for contributing the content and feed to social media. 
#4 Flexible and creative contents
Unlike conventional advertisement which is repetitive and rigid, influencer marketing is more flexible and creative. In order for the influencer to convince and satisfy his or her followers, interesting, and exciting postings are required constantly and consistently. Creative contents, sharings, and engagements make influencer marketing more human as compared to the one-way conventional advertisement.  
#5 Loyalties and trust
The native Facebook ads will be labelled as "sponsored" which could disrupt the targetted audiences.  The public would have the option not to watch the whole advertisement or even blocked the postings. If influencer marketing is being opted, chances that the audiences would stay and watch what the influencer has to share and inform are bigger. Creative influencers would be able to attract the audience to participate during the engagement sessions which could help in increasing the rating.  
How to get started and how to choose the right Influencer?
Every marketing strategy to have its own cost in order to drive sales and gain profits. In order to get to correct combo in influencer marketing, one must ensure that the right influencer, platforms, experiences, and niche testimonials are in place. 
So where do you start should you be looking to invest in influencer marketing?
Step 1: Choose the right platform. 
From the data given,  Malaysian has the highest population in the Facebook community which is up to 22 million, followed by 12 million Instagram users and 3.86 million on Twitter.  Each platform has a specific target and niche. The industry you're in matters when you're planning to implement an influencer marketing strategy. Beauty and fashion brands shine on Instagram. Cafe owners and food industries are more favourable on Facebook.  So, make sure you pick the right platform to start with. 
Step 2: Set budget and management strategy
Deciding on whether you should opt for celebrity influencers or just a micro-influencers (who has around 2000 to 5000 followers) is another point to consider.
Another budget that you might need to confirm is the cost of the content such as video production. Creative professional video clips by a production firm might be higher as compared to an influencer creating a video. You might want to consider the ROI in order to decide on the budget. 
Having an influencer management agency might be a better efficient option. It could assist in the content, schedules, reached out views, SOE, and many more. 
Step 3:  Reaching out the influencers
Influencer marketing is to increase brand awareness and drives sales. Do consider the following in order for you to pick the right influencer:
Does the influencer niche match your service and products? Check on their existing postings to confirm.  

Does he or she credible as claimed? Scroll through their feed and check the engagement ratio to follower counts. Check on the comments should there be spam or fraudulent accounts.

Have they worked with similar brands before how was the campaign previously?
Upon picking the right influencers, reaching them out might be a struggle as well. You might want to consider platforms like
Ibuencer
which has more than 5,000+ mom influencers across SEA that you can reach out to.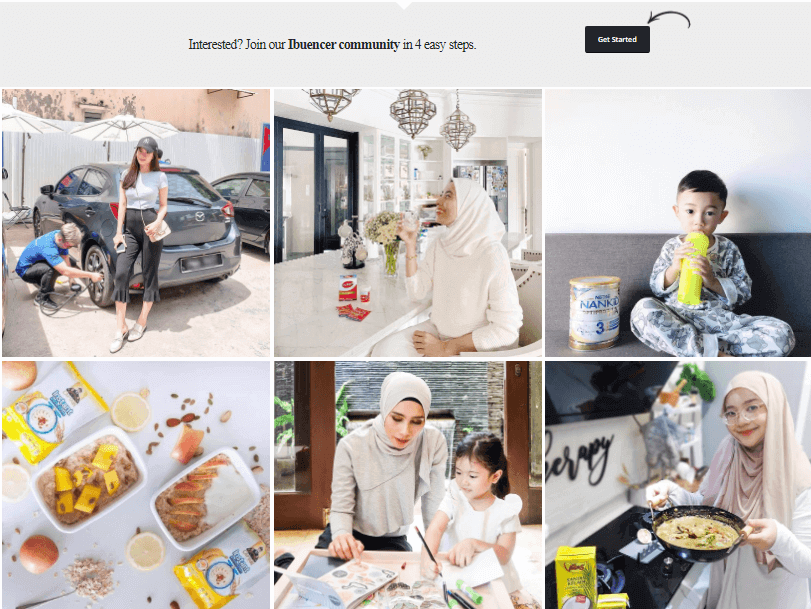 According to
Petrina Goh
, the founder and CEO of the Nuren Group, Ibuencer is a platform with the goal to connect the mom influencers to the right campaign and brand. Having the right influencer marketing helps in creating optimal social awareness and engagement for the brand. So, what is stopping you to grow your business with Ibuencer?
---
About ibuencer.com
Ibuencer.com is South East Asia leading mum & family focused influencer platform, powered by a data-driven approach that creates word-of-mouth advocacy for your brand. Founded in 2019 with offices in Malaysia, Singapore and Thailand, we have over 5,000 active growing mum influencers across South East Asia. Check out the ibuencers success stories on how our influencer marketing solution helps advertisers engage the right talent for the right campaign, hence creating optimal social awareness & engagement for their brand. Visit us online at
https://www.ibuencer.com/
.